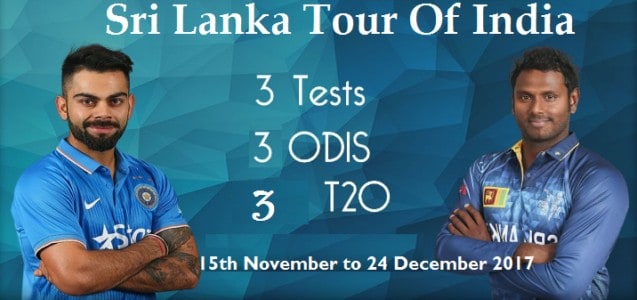 India versus sri lanka test match started from 16th Nov 2017 at the Iconic Eden Gardens in Kolkata. Here is everything you need to about India Versus Sri Lanka test match or following is cricket highlights-
INDIA SQUAD:
Virat Kohli (c), Shikhar Dhawan, Ravindra Jadeja, Ajinkya Rahane, Cheteshwar Pujara, Wriddhiman Saha (WK), Ravichandran Ashwin, Bhuvneshwar Kumar, Umesh Yadav, Mohammed Shami, Lokesh Rahul.
Bench: Rohit Sharma, Murali Vijay, Kuldeep Yadav.
SRILANKA SQUAD:
Dinesh Chandimal( c ), Rangana Herath, Dilruwan Perera, Angelo Mathews, Suranga Lakmal, Lahiru Thirimanne, Niroshan Dickwella(WK), Dimuth Karunaratne, Dasun Shanaka, Sadeera Samarawickrama, Lahiru Gamage.
Bench: Dhananjaya de Silva, Roshan Silva, Vishwa Fernando, Lakshan Sandakan.
India Versus Sri Lanka Test Match 1st Test Match, SRILANKA TOUR OF INDIA.
VENUE: Eden Garden, Kolkata.
Date: November 16-20 November 2017, Thursday to Monday
Toss: Srilanka won the toss and opt to bowl first.
INDIA 1st INNINGS
| Batsman | | R | B | 4s | 6s | SR |
| --- | --- | --- | --- | --- | --- | --- |
| Lokesh Rahul | c Dickwella b Lakmal | 0 | 1 | 0 | 0 | 0.00 |
| Shikhar Dhawan | b Lakmal | 8 | 11 | 1 | 0 | 72.73 |
| Cheteshwar Pujara | b Gamage | 52 | 117 | 10 | 0 | 44.44 |
| Cheteshwar Pujara | b Gamage | 52 | 117 | 10 | 0 | 44.44 |
| Virat Kohli(C) | lbw b Lakmal | 0 | 11 | 0 | 0 | 0.00 |
| Ajinkya Rahane | c Dickwella b Shanaka | 4 | 21 | 1 | 0 | 19.05 |
| Ravichandran Ashwin | c Karunaratne b Shanaka | 4 | 29 | 1 | 0 | 13.79 |
| Wriddhiman Saha(WK) | c Mathews b Dilruwan Perera | 29 | 83 | 6 | 0 | 34.94 |
| Ravindra Jadeja | lbw b Dilruwn Perera | 22 | 37 | 2 | 1 | 59.46 |
| Bhuvaneshwar Kumar | c Dickwella b Lakmal | 13 | 17 | 1 | 0 | 76.47 |
| Mohammed Shami | c Shanaka b Gamage | 24 | 22 | 3 | 0 | 109.09 |
| Umesh Yadav | NOT OUT | 6 | 8 | 1 | 0 | 75.00 |
Extra 10 (b6, Lb 4, w 0 , nb0, p0)
Total: 172 (10 wkts, 59.3 ov)
FALL OF WICKETS
0-1 (Lokesh Rahul,0.1 ov)
13-2 ( Shikhar Dhawan,6.2 ov)
17-3 (Virat Kohli,10.1 ov)
30-4 (Ajinkya Rahane, 17.2 ov)
50-5 (Ravichandran Ashwin,25.6 ov)
79-6 (Cheteshwar Pujara,37.2 ov)
127-7 (Ravindra Jadeja, 51.2 ov)
128-8 (Wriddhiman Saha, 51.5 ov)
146-9 (Bhuvaneshwar Kumar, 56.2 ov)
172-10 (Mohammed Shami, 59.3 ov)
| BOWLER | O | M | R | W | NB | WD | ECO |
| --- | --- | --- | --- | --- | --- | --- | --- |
| Suranga Lakmal | 19 | 12 | 26 | 4 | 0 | 0 | 1.37 |
| Lahiru Gamage | 17.3 | 5 | 59 | 2 | 0 | 0 | 3.37 |
| Dasun Shanaka | 12 | 4 | 36 | 2 | 0 | 0 | 3.00 |
| Dimuth Karunaratne | 2 | 0 | 17 | 0 | 0 | 0 | 8.50 |
| Rangana Herath | 2 | 0 | 5 | 0 | 0 | 0 | 2.50 |
| Dilruwan Perera | 7 | 1 | 19 | 2 | 0 | 0 | 2.71 |
SRILANKA 1st INNINGS
| Batsman | | R | B | 4s | 6s | SR |
| --- | --- | --- | --- | --- | --- | --- |
| Sadeera Samarawickrama | c Saha b Bhuvneshwar | 23 | 22 | 3 | 0 | 104.55 |
| Dimuth Karunaratne | lbw b Bhuvneshwar | 8 | 15 | 1 | 0 | 53.33 |
| Lahiru Thirimanne | c Kohli b Umesh | 51 | 94 | 8 | 0 | 54.26 |
| Angelo Mathews | c Rahul b Umesh | 52 | 94 | 8 | 0 | 55.32 |
| Dinesh Chandimal (C) | c Saha b Shami | 28 | 57 | 3 | 0 | 49.12 |
| Niroshan Dickwella (WK) | c Kohli b Shami | 35 | 38 | 5 | 0 | 92.11 |
| Dasun Shanaka | lbw b Bhuvneshwar | 0 | 3 | 0 | 0 | 0.00 |
| Dilruwan Perera | c Saha b Shami | 5 | 34 | 0 | 0 | 14.71 |
| Rangana Herath | c Shami b Bhuvneshwar | 67 | 105 | 9 | 0 | 63.81 |
| Suranga Lakmal | b Shami | 16 | 37 | 3 | 0 | 43.24 |
| Lahiru Gamage | NOT OUT | 0 | 3 | 0 | 0 | 0.00 |
Extra 9 (b 4, lb 4, w 1, nb 0, p 0)
Total 294 (10 wkts, 83.4 ov)
FALL OF WICKETS
29-1 (Dimuth Karunaratne, 4.5 ov)
34-2 (Sadeera Samarawickrama, 6.4 ov)
133-3 (Lahiru Thirimanne, 36.2 ov)
138-4 (Angelo Mathews, 38.5 ov)
200-5 (Niroshan Dickwella, 52.5 ov)
201-6 (Dasun Shanaka, 53.3 ov)
201-7 (Dinesh Chandimal, 54.2 ov)
244-8 (Dilruwan Perera, 68.6 ov)
290-9 (Rangana Herath, 82.3 ov)
294-10 (Suranga Lakmal, 83.4 ov)
| BOWLER | O | M | R | W | NB | WD | ECO |
| --- | --- | --- | --- | --- | --- | --- | --- |
| Bhuvneshwar Kumar | 27 | 5 | 88 | 4 | 0 | 0 | 3.26 |
| Mohammed Shami | 26.3 | 5 | 100 | 4 | 0 | 0 | 3.77 |
| Umesh Yadav | 20 | 1 | 79 | 2 | 0 | 1 | 3.95 |
| Ravichandran Ashwin | 8 | 2 | 13 | 0 | 0 | 0 | 1.63 |
| Virat Kohli (C) | 1.1 | 0 | 5 | 0 | 0 | 0 | 4.29 |
| Ravindra Jadeja | 1 | 0 | 1 | 0 | 0 | 0 | 1.00 |
INDIA 2nd INNINGS
| Batsman | | R | B | 4s | 6s | SR |
| --- | --- | --- | --- | --- | --- | --- |
| Lokesh Rahul | b Lakmal | 79 | 125 | 8 | 0 | 63.20 |
| Shikhar Dhawan | c Dickwella b Shanaka | 94 | 116 | 11 | 0 | 81.03 |
| Cheteshwar Pujara | c Dilruwan Perera b Lakmal | 22 | 51 | 3 | 0 | 43.14 |
| Virat Kohli(C) | NOT OUT | 104 | 119 | 12 | 2 | 87.39 |
| Ajinkya Rahane | Lbw b Lakmal | 0 | 4 | 0 | 0 | 0.00 |
| Ravindra Jadeja | c Thirimanne b Dilruwan Perera | 9 | 41 | 1 | 0 | 21.95 |
| Ravichandran | b Shanaka | 7 | 25 | 1 | 0 | 28.00 |
| Wriddhiman Saha (WK) | c Samarawickrama b Shanaka | 5 | 23 | 0 | 0 | 21.74 |
| Bhuvneshwar Kumar | c Dilruwan Perera b Gamage | 8 | 18 | 1 | 0 | 44.44 |
| Mohammed Shami | NOT OUT | 12 | 11 | 2 | 0 | 109.04 |
Extra 12 (b7, lb1, W3, nb1, p0)
Umesh: Did not bat
Total: 352 (8 wkts, 88.4 ov)
FALL OF WICKETS
166-1 (Shikhar Dhawan, 37.1 ov)
192-2 (Lokesh Rahul, 44.2 ov)
213-3 (Cheteshwar Pujara, 52.2 ov)
213-4 (Ajinkya Rahane, 52.6 ov)
249-5 (Ravindra Jadeja, 65.5 ov)
269-6 (Ravichandran Ashwin, 73.5 ov)
281-7 (Wriddhiman Saha, 79.3 ov)
321-8 (Bhuvneshwar Kumar, 85.4 ov)
| BOWLER | O | M | R | W | NB | WD | ECO |
| --- | --- | --- | --- | --- | --- | --- | --- |
| Suranga Lakmal | 24.4 | 4 | 93 | 3 | 0 | 1 | 3.77 |
| Lahiru Gamage | 23 | 2 | 97 | 1 | 1 | 0 | 4.22 |
| Dasun Shanaka | 22 | 1 | 76 | 3 | 0 | 2 | 3.45 |
| Dilruwan Perera | 13 | 2 | 49 | 1 | 0 | 0 | 3.77 |
| Rangana Herath | 6 | 1 | 29 | 0 | 0 | 0 | 4.83 |
SRILANKA 2nd INNINGS
| Batsman | | R | B | 4s | 6s | SR |
| --- | --- | --- | --- | --- | --- | --- |
| Sadeera Samarawickrama | b Bhuvneshwar | 0 | 6 | 0 | 0 | 0.00 |
| Dimuth Karunaratne | b Shami | 1 | 6 | 0 | 0 | 16.67 |
| Lahiru Thirimanne | c A Rahane b Bhuvneshwar | 7 | 28 | 1 | 0 | 25.00 |
| Angelo Mathews | Lbw b Umesh | 12 | 23 | 2 | 0 | 52.17 |
| Dinesh Chandimal (C) | b Shami | 20 | 33 | 3 | 0 | 60.61 |
| Niroshan Dickwella (WK) | Lbw b Bhuvneshwar | 27 | 36 | 2 | 2 | 75.00 |
| Dasun Shanaka | NOT OUT | 6 | 17 | 1 | 0 | 35.29 |
| Dilruwan Perera | b Bhuvneshwar | 0 | 7 | 0 | 0 | 0.00 |
| Rangana Herath | NOT OUT | 0 | 4 | 0 | 0 | 0.00 |
Extra 2 (b0, lb 1, W 0, nb1, p0)
Did not bat: Suranga Lakmal, Lahiru Gamage.
Total 75 (7 wkts, 26.3 ov)
FALL OF WICKETS
0-1 (Sadeera Samarawickrama, 0.6 ov)
2-2 (Dimuth Karunaratne, 3.3 ov)
14-3 (Lahiru Thirimanne, 8.1 ov)
22-4 (Angelo Mathews, 11.5 ov)
69-5 (Dinesh Chandimal, 20.4 ov)
69-6 (Niroshan Dickwella, 23.1 ov)
75-7 (Dilruwan Perera, 25.2 ov)
| BOWLER | O | M | R | W | NB | WD | ECO |
| --- | --- | --- | --- | --- | --- | --- | --- |
| Bhuvneshwar Kumar | 11 | 8 | 8 | 4 | 0 | 0 | 0.73 |
| Mohammed Shami | 9.3 | 4 | 34 | 2 | 1 | 0 | 3.58 |
| Umesh Yadav | 5 | 0 | 25 | 1 | 0 | 0 | 5.00 |
| Ravindra Jadeja | 1 | 0 | 7 | 0 | 0 | 0 | 7.00 |