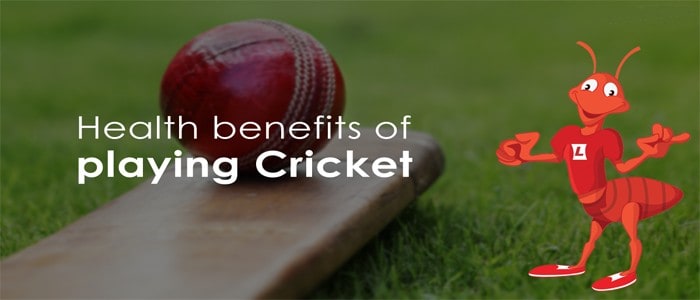 Playing cricket is benefiting our body to maintain weight, decrease stress level, control blood circulation. "A player wants to be young and fit for longer period start playing sports. Make a habit of playing sport and it can be your favorite activity. What are the benefits of playing cricket or sports? Playing sports is all related to performing an exercise in a day to day life. It helps our body to be more active and efficient. Every part of our body muscles becomes stronger. It has many benefits but you must know an accurate way to play it.
Top 7 Benefits of playing Cricket or Sports
Make Heart Healthy

Playing sports benefit the human heart and play an important role to build a healthy heart. A heart is the main organ of your body and it must be healthy. Sports help to make a healthy heart for a long time. By playing sports human body heart pumps faster and helps to circulate more blood through the body. We must play regularly to make the body stronger and fit. A healthy heart can increase your lifeline. All body function is connected to the human heart.

Control Body Weight

Obesity is a common problem faced by every people in the world. They cannot control their body weight due to bad diet. Increasing body weight at extreme level can cause death. Benefits of playing cricket are the help to control human body weight. By playing sports regular burn body fat and reduces body weight. It's easiest ways to maintain weight and be away from dangerous diseases. If you play regular sports it gives lean and fit body. As well as drinking water also helps to control & reduce body weight.

Reduce Stress

Sports are a way to reduce or overcome with daily life stress. Sports play a key role in the reduction of stress. When you feel under pressure or stress, start playing any kind of sport it will help you to reduce it. It's best ways to control and fight back with a problem. Stress can effect on your daily routine. If you successfully fight back with these problems, one day you will be a great personality. Playing cricket and other sports helps in releases stress level and control your mind.

Build Good Co-Ordination with Team Mates

It is one of the best benefits of playing sports or cricket. In sports, a good coordination with a teammate is a help to grow the friendly relationship. Build confidence among teammate and learn to be dependent on each other. Every sport is a team game every player must support each other. Spoons help us to achieve positive reaction among teammates. It will build your relationship off and on the field. Always support and respect team leader. You learn every basic thing by playing cricket & other sports in a day to day life.

Increase Stamina

Stamina is an important aspect of fitness level. When you will start playing cricket or other sports daily, you notice stamina increases day by day. Stamina is one of best benefits of playing sports. If you want to play longtime sports, your stamina level must be high. Some of the training, running and cardio exercise help to increase stamina level in human body. Sports players focus on increasing stamina level. Stamina plays an important role in every great sports person. If you want to be successful in every cricket & other sports than you need to improve stamina.

Improves Concentration

Regular cricket & other sports activity help you to increase concentration and sharp your game skills. A proper concentration includes thinking under pressure, learning and perfect judgment. Many exercises result to be very helpful in improving concentration power. Applying such activity in day to day life helps to improve mental health. In every game, a proper concentration involves the player in the game. It's making easy to win every game due to the proper concentration.

Self-Confidence
A player must be self-confidence to win every game. He mnust have trust on his ability and skills. He should not feel downward in his game it will decrease his confidence. Cricket & other sports help to boost confidence and give best in every game. It helps us to improve and build a new self-image in cricket or sports career. It generates energy on a high level which can be applied during the game. Automatically you will win every game that increases your self-confidence.
CricketBio comes up with some of best benefits of playing cricket & other sports games. If you have any more benefits than you can share with us, just you have to write in the comment section.