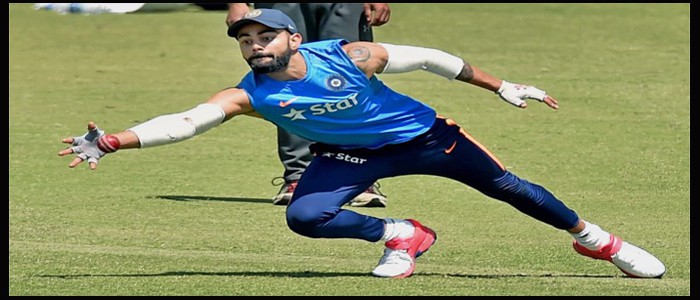 Catching is part of fielding in cricket. In cricket how to catch a cricket ball with perfection that is the biggest task. Every cricket team focuses on fielding part because it's an important part in cricket. What means "Catch" in cricket? It is a way to make out batsman by collecting balls, which should be in the air. More focus in fielding gives more win.
Be Ready to Take Catch

A fielder must be prepared and ready to take catches. Stand accurate on a field and your position must be good to catch a cricket ball. They should be fit and active to take a catch in cricket. How to stand on the field? Bend your knees, upper body part and your hands must be close to the ground. This stance helps you to take the low ground catch. The only thing is that you must focus on the ball. React quicker towards the ball and be ready.

Prepare Yourself

Fielding is a very difficult part in cricket. It required lots of practice and hard work to be a good fielder. You must know techniques to catch the ball. If you didn't know the technique and you are attending to take catch that will be very risky for any fielder. So, prepare yourself know all kinds of technique and tricks to take catches. Practice hard on the field and take guidance from fielding coach. Fielding is a main part in cricket and many players got injured. So, be careful it's not an easy thing to do. If you want to be good fielder be prepared yourself before the match.

Be Cool

It will help you to take difficult catches in cricket. If you have a fear of leather ball, then it's impossible for you to take the catch. Not be scared from ball be cool and relax it will help you to take catch. Also, it will be easy to do fielding. Set your mind in relax mode and body should be free and don't think how to catch a cricket ball to make out batman. Always use a handkerchief to clean hands because it can be firm. While catching ball it can be bounced from your hands.

Eye on Ball

When a batsman hit ball in air your focus must be on the ball. Not district from crowd voice or other things. The only important thing is to focus on ball carefully. Make focus, not to worry about other things. Watch ball till it's in your hand safely.

You should know where you are standing on the ground. There is different fielding position in cricket for e.g.: Slip, Gully and Boundary line. The boundary line fielder has the ability to take high catches on the field. Give your best to catch the ball, your effort must be up to the mark. Nearby fielder should be active because the ball comes very quickly.

Both Hands in Cup Position

It is technique to catch ball with no risk. Make cup position with hands and let the ball be in your palm.

Soft hands
How to catch a cricket ball with soft hand, when you use soft hands to catch the ball it will help you to take safe catches. Be relax and cool on the field, hands must be free to catch ball. If you catch the ball with hard hands, your hand will act as a wall, ball will bounce from hands. So, always use soft hands to catch ball.