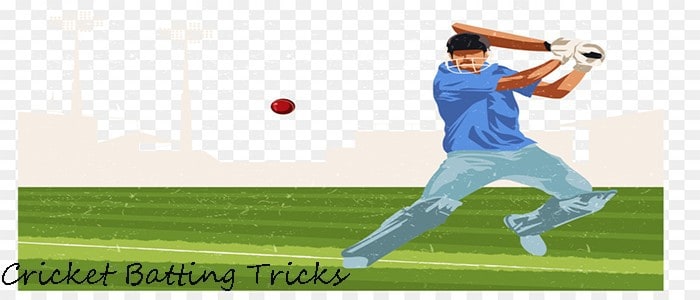 In cricket, batting is an only aspect which required more hard work and practice as compared to other aspects. A batsman must do lots of hard work & get to know some best cricket batting tricks to succeed in every game. Start improving batting skills with stance, grip and shot selection. Work on your weak points and try to improve it as soon as possible. Practice in a net session and record your batting in any recording device to improve your batting weak points.
If you want to be a good batsman learn all cricket batting tricks to enhance batting technique. Here, we are going to share best tips & tricks to improve cricket batting.
Eye Level

A batsman must concentrate on the game to perform well in every game. Keep your eye on the ball to react quicker against delivery. An accurate eye level increases reaction speed. It decreases difficulties for a batsman to face the next delivery. Observe bowler's body language and try to focus on "What he will deliver"? It became easy for the brain to process the information. This cricket batting tip & trick helps us to score more runs against any bowler in cricket. You must concentrate on eye level to improve reaction time.
Stand Properly

In cricket, batsman standing position must be proper. Standing in right technique helps you to play in correct line of the ball. After taking a perfect standing position move your shoulders in the line of the ball. Automatically rest of the body will be in the line of the ball. This trick is very helpful for a batsman to play the ball in right technique. When you hold the bat, your elbows must be in the bowler's direction. While batting shoulders must be up and straight to play attacking shots.
You may also like – Fundamental Skills of Cricket
Length Of Ball

It's one of the most important tricks for every batsman to play the well-timed shot. A batsman must have a technique to judge the length of the ball to attack it. If you face short length delivery hit it to the boundary line. Apply the same principle on full-length delivery. But your focus must be on ball when you face full-length delivery. Grip the bat in both hands for perfect grip on the bat.
Keep Eye On Bowler's Hand

It's very useful principle just you need to focus on bowler's hand to judge the upcoming delivery. Eye co-ordination acts a vital role to keep eye on bowler's hand. Cricket batting tricks are useful for those who face problems in their batting. How to judge next delivery? Look at seam position it helps to judge next delivery.
Save Your Wicket

If you want to play long innings try to save your wicket from the bowler. His main intention is to dismiss you early in the game. Bowler tries to bowl fast because his aims your wickets to get you out. Play defensive shot rather playing attacking shot to make perfect contact with ball.