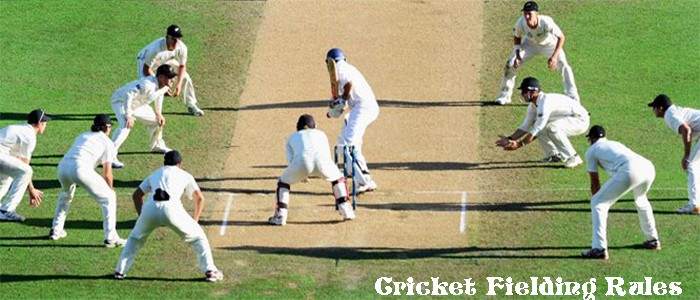 In cricket fielding is an important aspect to win every match. Fielders save runs for his team by performing best on the field. In early days of cricket players didn't focus much on fielding. They aren't aware of techniques and benefits of fielding in cricket. But Cricketers must know all cricket fielding rules and regulations. In modern era fielding is one of the important aspects to be the focus for winning every match.
Young cricketer believes a good fielding increase winning chances for the team. Good fielders contribute in every match by saving runs for his team. Every team has nine fielders, wicketkeeper, and bowler. Fielding positions are decided by captain discussing with the bowler. In 1980- 81, Australia introduced fielding rules & restriction.
Cricket Fielding Rules and Regulations for Men's
In cricket, a ground has two semi-circles on the field of play. The first semi-circle is in the middle of ground and second semi-circle on end of the ground. The radius of every semi-circle is 30 yards (27m) in cricket. Semi-circles are drawn with linked lines parallel to pitch.
Cricket Fielding Rules and Regulations for Women's
Cricket ground for women is smaller as compared to men's cricket ground. In men's game infield circles are smaller. The radius of infield circles is 12 meters (13 yds.). And the semi-circles of infield have the radius of 23 meters (25 yds).
Only three fielders are allowed to be on outfield for further five overs.
In a power play, there is a restriction on fielding. Each power play has 5 overs spell in the game.
On 7 July 2005, first power play rule was applied in ODI between England and Australia.
ODI Cricket Fielding Rules and Regulations
In first 10 overs, only two fielders are allowed to outside 30-yard circle.
In between 11 to 40 overs only four fielders are allowed to be outside 30- yard circle.
In last 10 overs of an innings, five fielders are allowed to be outside 30-yard circle.
Each team has 11 players in their team.
Captain winning toss session decides either bat or bowl first.
In first innings, batting side set the target for fielding side.
An innings is uncompleted until batting side is "ALL OUT".
In ODI format each bowler has 10 overs to bowl.
Every team must have 5 bowlers in the match.
The second batting side has to score more than the target to win the match.
The bowling side tries to make out earlier to win the match.
If both team score equal runs in the match than a match is declared a tie.