During cricket we are require variety of skills which are known as fundamental skills of cricket. Today we are going to disclose some unique fundamental skills of cricket.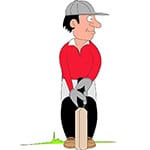 Begin a batsman he must have good wrist power, eye co-ordination, stamina, running speed, judgment of speed, bat speed and other knowledge and statistics for cricket.
Some basic following skills batsman required:-
He should try to save his cricket by bat.
Avoid the ball which hits to legs.
Avoid hitting in air the which, can result batsman being out caught.
He should have perfectly guidance when to take a run.
Hit the ball by prefect chooses of shot, timing and strength.
Different types of shots
Good batsman plays different shots to make more runs he has prefect knowledge and skills to play the different types of shots. Usually good, batsman has great balance throughout his body there are variety of shots a batsman can play.
Types of batting
Block
Cut
Drive
Hook
Leg Glance
Paddle Sweep
Pull
Sweep
Reverse Sweep
Slog Sweep
Slog
Bowling is important as batting in the cricketing field, bowling means when the ball is defended by a batsman to save his cricket. A player who has skills to bowl known as a bowler. When the ball is thrown to the batsman is called a ball or delivery. One over has six sets of ball usually a bowler bowls six balls in an over when one over bowled by any bowler another player from his teammates bowl the next over. There are some laws of cricket for bowler how to bowl a ball of the bowls an illegal bowl, an umpire will rule it a 'No Ball'. If a bowler bowl very far from batsman then it's known as 'Wide' and bowler has to bowl another ball.
Fast bowling
Seam Bowling
Swing Bowling
Bouncer
In dipper
In swinger
Leg Cutter
Off Cutter
Slow Ball
Reverse
Deliveries
Spin bowling
Off-Spin
Leg-Spin
Chinaman
Doosra
Googles
Leg Break
Teesra
Arm Ball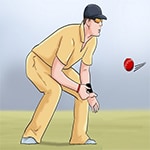 In 21st century fielding is a key point to winning the match a player required more hard work, practice and flexibility to become a good fielder. Being a good fielder he should have more flexibility, and body right behind the ball. He must have judgment where the going for a catch fielder eye must to on batsman strictly he should look all the action performed by the batsman to react to catch the ball.
A good fielder should have great concentration even when the team field in out of the blazing sun for more than five hours. A team should have good fielding side to win more matches for his country a good fielder saves more runs and force him to come in under pressure. Fielding is an important part of cricket fielding creates pressure that wins many matches.
Now a day the standard of fielding is on a top level. Every player of any team is a great fielder because of their fitness and flexibility.
First aid of sports injuries in cricket;
Injured Elbow
Rib Cage Injury
Pulled Hamstring
Finger Fracture
Wicket – Keeper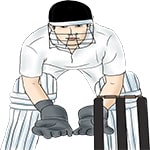 Wicket keeper plays important role in cricket good wicket keeper can save a number of runs for his teams. His function is to stop deliveries, which the batsman unable to play or passed by batsman wicket keeper is the god in cricket because he can dismiss the batsman in various ways. A first way is when the bowler ball to a batsman and when it got an edge of the bat and keeper caught it before it, bouncer.
The wicket keeper position is the best position then other fielders for high air caught, he can easily catch that he sought another way to dismiss a batsman for the wicketkeeper. When the batsman miss to play the shot and he comes out of crease wicketkeeper caught the ball and fall bails from stumps and at last when the balls hit into outfield wicket keeper come closer to the stumps and receive the ball and run out if its possible.