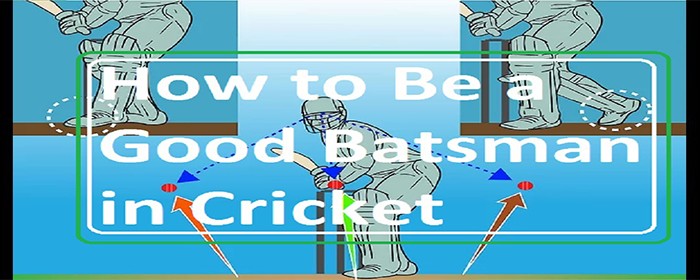 A good batsman plays important role in the team victory. A batsman must know right technique to play right ball. In cricket every batsman not to be a good batsman. They have to practice a lot in nets to become a good batsman. In this article, we share some tips on "How to be a good batsman".
How to Be a Good Batsman
Eye On Ball

In cricket, a player must be focused in a game to score big runs. A batsman faces the fastest delivery from bowler which can be more than 150 km/ph in cricket. To play against fast bowler inaccurate way, your focus must be on him. A batsman should focus on the ball when it leaves from bowler's hand. This bowling technique will help you to know which delivery you will face. A batsman should be active on the field to react quickly against the bowler. If you master this technique to know where the ball bounces on the pitch, later swing the bat to hit long sixes. If you want to be a good batsman in cricket than start playing with bowler's mind. A batsman must have the ability to destroy bowler's strategy.

Perfect Grip On Bat

A batsman must know right technique to grip the bat in cricket. Perfect grip on bat helps you to play different shots on the ground. If you are a right-hand batsman, your left hand must be on top of the handle and right hand at the bottom, vice-versa for the left-hand batsman. Make "V" shape with hands-on the bat. The bottom hand must be straight down to the center back of the bat. Your main hand must control the movement of the bat. Perfect grip on bat helps you to hit a ball down the ground. Also, reduce the chance of getting caught out. Apply this tip to be a good batsman.

Stance

A perfect stance enhances your batting ability in cricket. Batsman's feet must be on shoulder width to improve stance. On batting crease, each foot must be on either side. And also your feet should be parallel to batting crease. While batting batsman head should be in the center of feet from the front on and side on. Hold your bat less than half up for back lift. If you want a perfect stance to balance your body weight on a crease. This tip helps you to score runs in every corner of ground.

Shot Selection

It's very necessary for batsman to select a perfect shot in cricket. While selecting shot you need to focus on ball, which type of delivery you face? A batsman must react quickly when ball comes closer to him. If you face short delivery move your body weight back ward on waist. This tip helps you to play in right technique against short delivery. To play different types of shots in cricket you need to practice a lot in net session. Wrong shot selection makes you "OUT" early. It's an important thing to focus to be a good batsman in cricket.

You also like – How to Play Cricket Shot

Bat Swing


Now a day, cricket bats have been more advanced it's easy to swing the bat. Some cricketer face problem related to heavy bat weight which also faces difficulty in playing a shot. Don't play with the cross bat it reduces energy in the shot. You should be confident on cross batted shot because it can be risky sometimes. If you want to play cross batted shot you need the lot of practice and eye-coordination. Hold your cricket bat lightly because if you bat tight handed there are chances of decline in a stroke of bat.

Observe Field Placement

Good batsmen play shots according to the field placement. Every batsman dreams to be a good batsman but important thing is to know field placement. It also helps to know what kind of delivery you face in next ball. If a bowler is trying to deliver outswing or leg spin he set extra fielder on off-side. And if he tries to bowl off-spin he set four fielders on on-side. Wicketkeeper comes closer to stumps if bowler tries to bowl by reducing pace in bowling. If wicketkeeper is wider from stumps bowler try to keep ball wide from stumps.

You also like – Best Field Position in Cricket

Pitch Knowledge

f you are a batsman you must have pitch knowledge in cricket. It's very necessary to know the condition of the pitch. Before the match starts first lookout pitch closely to understand the pitch. If pitch surface is hardball will bounce more on a hard surface. Such types of the pitch are very dangerous for a batsman. If you see green grass on the pitch then pace in ball increases and has less bounce on the pitch. Usually, pitch knowledge is must be needed to play long innings. This tip helps you to know which type of pitch you face on match day.

Timing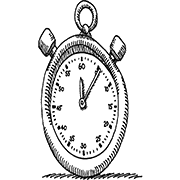 If you think in cricket a muscular man can hit more sixes than a normal man "YOU ARE WRONG". In cricket, if batsman achieves success in the concept of timing in future he can be a legendary cricketer. "HOW TO TIME A BALL" it very easily keep your eye on the ball and observe till it comes closer to you. To hit the ball in a gap between fielders you must have perfect timing in shots. If you use more power in the shot ball will travel less on the ground.