When you know some of best cricket shots, then you can score a good amount of run in cricket. Learning and practice are two things which will help to score run in cricket. So today will going to disclose some of best cricket shots which definitely help you to learn how to play cricket shot. But make sure after reading this blog you must go to practice to become perfect.
Practice makes you perfect!
Front Foot Defence Shot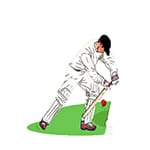 Front foot defence shot is playing to stop the ball with bat before it hit the stumps while playing this shot not strength required usually it can be played by soft hand grip to stop the ball moving towards the wicket.
Front Foot Defence shot is mainly two types –
Forward defence.
Backward defence.
Forward is playing on front foot and backward is playing on back foot. This defence shot is playing more in test matches to rotate the strike rate by moving the ball into the vacant position of infield. A batsman pushes the ball and rotates the strike defence shot mainly played in first class cricket and test cricket. Today we going to discuss more about how to play cricket shot.
Leg Glance Shot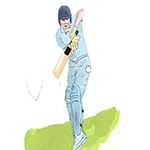 A leg glance shot while playing this shot a ball aimed slightly to leg side use the bat to flick that ball. If you want to play perfect leg glance, then your wrist must be strong it's depend on your wrist. We play leg glance at the last moment bat face toward the leg side the shot is played 'off the toes', shins or hips'. When we play this shot the ball down to third man. We must be careful while playing this shot because if we miss to flick it away there are more chances for LBW (Leg Before Wicket).

Drive Shot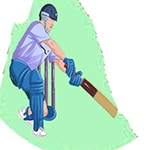 A drive shot is played by straight bat it required good bat swing in a vertical arc through a line of the ball. It has different variety of shots like cover drive, on drive, off drive, straight drive and square drive.
Cover drive played toward cover fielding position.
On drive between stumps and mid-on.
Off drive towards mid-off.
Straight drive toward straight down the ground.
Square drive towards point.
The drive shot is a commonly shot which is taught firstly to upcoming cricketers. The back foot drive is hard to play drive the line of ball while playing drive there are less chances to get out or dismiss.
Flick Shot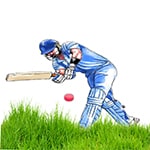 A flick shot is a shot played on the leg side by fielding delivery using his wrist power. It is played with a straight bat in other word it also called clip off the legs this shot is played between mid on and square leg region. Flick shot is a kind of lofted shot less risk to get caught out we can play this shot on both foot back foot and front foot.
'Virat Kohli' former captain of Indian team plays flick shot very well he is an expert in flick shot. Because his wrist is very strong and powerful due to it, he can play this shot easily.
Square Drive Shot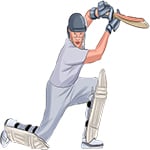 Square drive is very difficult to play for beginners because of less knowledge of timing while playing square drive timing must be prefect and play with horizontal bat, because if you play horizontal you will time that shot perfectly. Square drive and square cut seem looks similar to see, but actually it is difficult from each other. Square drive is played to hit wide ball by bending his knees square cut is played to the bouncer which is above the height of batsman.
Cut Shot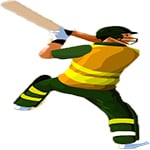 In cricket we can score runs by cross bat, cross batted shot played by technique a cut shot is also a cross batted shot, placing it on off side square cut timed little bit late to play it off the side near to the wicket. A late cut is played when the ball come closer to batsman he cut's it and hit to third man. Late cut must be timed well if you mistimed it the bat face open and high chances of ball rises in the air, a chance to be caught out.
If you want to play a cut shot perfectly, then you should play it on the back foot when the ball comes closer to your body goes to back foot and cut it to third man and score runs easily . A perfect cut shot can goes for six runs so, it is also an high hitting shot now a days in modern cricket.
Sweep Shot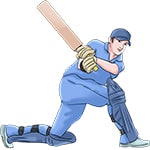 Sweep shot is a front foot shot played by cross bat, it's a perfect way to play this shot kneeling on one knee. Your head should be down in the line of the ball and bat swing must be perfect. Swing a bat in a horizontal arc when the ball comes closer to body sweep it on the leg side 'fine leg' leg side ball sweep shot is perfect to choose and score runs easily.
Hard sweep shot can be goes for six runs it depends on player strength, a paddle sweep is a sweep shot in which the bat hits on the fine leg with horizontal arc. The risk of LBW is high in sweep shot because if you mistimed it, then you will be LBW easily.
Pull and Hook Shot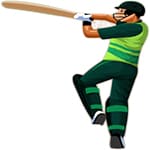 The hook shot is played against the bouncer ball or the ball which is above from the batsman chest. The hook shot played towards the square leg, you can play it on air or along the ground. A pull shot is cross batted shot played against bouncing ball, batsman swing the bat in horizontal arc, pulling it to leg side towards mid wicket or square leg.
Pull and hook shot can be played front foot or back foot but back foot have more benefits in back foot. We should play it on back foot for perfect shot. In Indian cricket team Rohit Sharma play pull shot perfectly he is master of pull shot.
Reverse Sweep Shot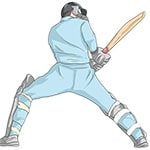 A reverse sweep is a standard sweep, it is a cross batted shot played in the opposite direction. A sweep shot is played to leg side but reverse sweep is on opposite direction on the off side towards third man or backward point. We can play traditional sweep by bringing back foot to the front the risk of LBW is also high there are high chance to be LBW and also can got edge to the fielder.
Reverse sweep was firstly invented in 1970s by Pakistani batsman Mushtaq Mohammed. Reverse shot is playing more by Australia and England player. They practice it for hitting sixes in Indian team Yusuf Pathan and Robin Uttappaare best example hitting for six by reverse sweep. There are two master of reverse shot AB de VILLIERS and MAXWELL they playing reverse sweep for hitting sixes.
Uppercut Shot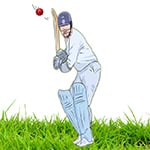 Uppercut is playing, when the ball is pitched outside the off stump with extra bounce. It is playing towards third man this shot is more playing shot in modern cricket. Now a day like to play this shot, but it is risky shot if we play by incorrect method keeper or slips player can take catch. Uppercut shot is more see able in short over's like twenty-20 on fast bouncy tracks.
Sachin Tendulkar the master blaster he's signature shot was upper cut he play it very perfect other player are inspired by him. Now a day everyone playing uppercut shot easily.
Slog Shot
A slog shot is playing by kneeling, on the knees slog is played to over square leg rather than to mid-wicket. The front leg must be placed wider outside leg stump for a full swing of the bat. A slog shot is exclusively used against full pitched ball a slog is usually hit in the air for six, it is a powerful shot to play. Players must have strength to hit slog because we must have power to hit the ball to the six. Slog shot played more in twenty 20 (T-20).