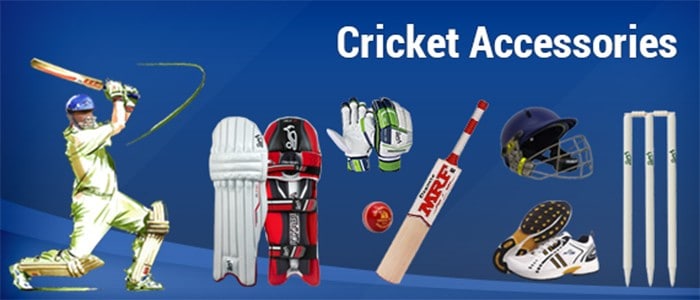 In cricket you must require all equipment's to play it. Playing cricket with no cricket equipment is like a waste of time. Cricket equipment's are exactly by the laws of cricket. They had been set similar laws to play cricket. You must be aware of cricket equipment if you are a professional cricketer. You have to invest on list of equipments used in cricket for your safety & for a better cricket career. In international cricket a wicket keeper and batsman must to wear cricket equipment's because it's necessary and very helpful for them. If they ignore it, can dangerous to play cricket.
Following is List of Equipments Used in Cricket
Cricket Bat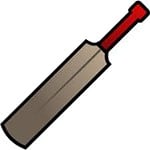 A bat is used by batsman to play different shots in cricket. It is made of wood and it has handle on top. Varieties of cricket bats are available in the market. According your requirements, you can choose your cricket bat. In list of cricket equipment's, a bat comes on top because it's important cricket equipment. Cricket bat's maximum length is 38 inches as per laws of cricket. The cricket bat is restricted by rules in cricket, its size must be up to 96.5 centimeters and its weight range in between 1.2 kg to 1.4 kg.
Tennis Bat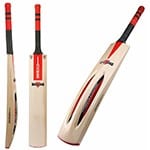 It is a normal bat usually used to play local cricket in gully, grounds etc. It is not restricted by any rules or laws. This kind of bat is not used in international cricket. It is made from normal wood as its quality depends on it. Tennis bat is used to play against tennis ball. There is no requirement to invest more on it because it cost low. If you are playing with a tennis ball, this bat will help you to play proper tennis cricket.
Cricket Ball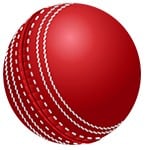 Cricket ball is made by pure leather on it. The shape of cricket ball is spherical. While making ball they use two pieces of leather to cover it. In international cricket there are two different types of balls for different formats.
In test cricket red color ball is used to play.
In ODI and T20 formats white color ball is used to play.
In day/night test series they also use a pink ball. It is restricted by laws of cricket.
Ball weight must be in between 156 grams to 163 grams and its circumference from 224 millimeters to 220 millimeters. Cricket ball is important cricket equipment in the list of equipments used in cricket.
Cricket Helmet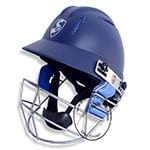 The helmet is used to protect batsman/wicket keeper from cricket ball. A cricket helmet is made by hard plastic and mixer of many metals. It is structured in the proper way to protect batsman/wicket keeper head.
A batsman wears a helmet at the time of batting.
Wicket keeper uses it at the time of wicket keeping.
On the front side of the helmet a metallic grill is given to protect the batsman/wicket keeper's face. If you want to play a safe cricket wear helmet. It is important equipment in the list of equipment used in cricket. If you use it in the correct way it will benefit you, if you ignore it can be dangerous for your life. In cricket safety comes first so use helmet while playing cricket.
Gloves For Wicket Keeper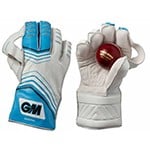 In the cricket, wicket keeper uses gloves to catch ball. Gloves are very necessary for wicket keeper as it protects your hands and fingers. Wicket keeper wears gloves in both hands to protect it from dangerous injury. It is designed in the shape of human hands. They use cloth and leather making gloves for wicket keeper. Inside part of gloves are smoother to protect hands and fingers.
Gloves For Batsman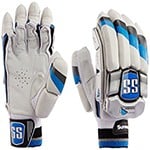 Batsmen wear gloves on hands at the time of batting. It sounds similar to hear a word wicket keeper gloves and batsman gloves, but it's different in reality. It is structured in a similar way, but it is softer from outer side as compared to wicket keeper gloves. Batsman wears gloves to handle bats properly. It is very useful as it provides you perfect grip on the bat. Your hands will be on the safe side if you use gloves for batting. They give more protection on the outer side of gloves for batsman, because a ball can hit your hand and it's very dangerous.
Cricket Pads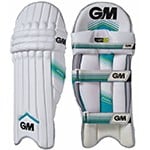 Pads are used to protect the lower part of your body for batsman & wicket keeper. They wear it on legs during batting & wicket keeping. Pads are very soft from inner it is made with leather and cloth. Outer part is harder as compare to inner part. Outer part is made of woods sticks and hard plastic. Inner part is very comfortable as it is very soft from inside. Pads used by wicket keeper are shorter than batsman's pads.
Stumps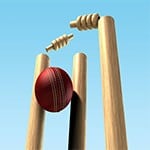 Stumps are structured in cylindrical shape with long shape and at end point it is spear. They erect three stumps on ground in cricket. Stumps are important equipment in cricket. On the ground they are placed closer to each other as the ball cannot pass from between them.
Bails
Bails are made with wood as it is smaller equipment in cricket. It is used to place it on the stumps. With the bails umpire decision to dismiss a batsman gets easy. It is set on top of stumps as two wooden pairs.