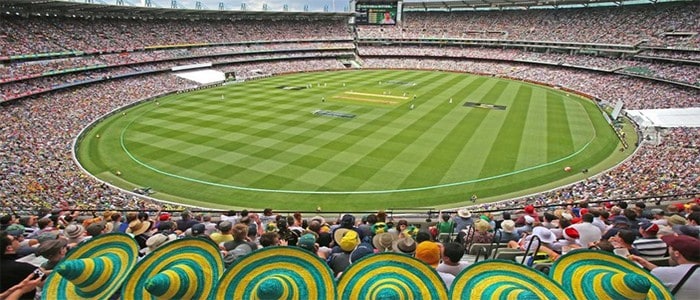 In the sports category, cricket is a game which has been very popular after football in the world. Playing cricket required a large amount of space to enjoy it. In international cricket, they have cricket grounds to play under rules and regulations of cricket. Here we explore a Top list of cricket grounds in India.
Following is List of Cricket Grounds in India
Eden Gardens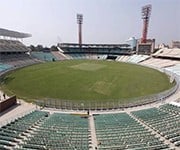 An Eden garden is one of the largest cricket ground in India in terms of capacity. In world it rank third largest cricket stadium in terms of capacity. It is home ground of Bengal and Kolkata cricket team.
Eden gardens were established in the year 1864.
Current seating capacity is of 66,349.
In 1996, world cup semi-final was played in Eden Gardens, Kolkata.
Australia won first world cup & this ground is considered as the lucky ground for Australia team.
In 1991, Kapil Dev took his first ODI hat-trick against Sri Lanka at Eden gardens.
An unbreakable partnership was between VVS Laxman and Rahul Dravid of 376 runs at Eden Gardens, Kolkata.
On that series, Harbhajan Singh took 32 wickets.
One popular incident was happened on this ground, when Shoaib Akhtar blocked Sachin Tendulkar on field during test match.
Rajiv Gandhi International Cricket Stadium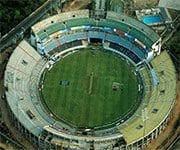 Rajiv Gandhi international cricket stadium is located in Hyderabad. It is also known as Visaka international cricket stadium in the city of Hyderabad. And also the home ground for Hyderabad cricket association. Ground covers across 16 acres huge as compared to other cricket grounds in India.
This is home ground of IPL team Sunrisers Hyderabad.
Currently seating capacity of ground is 55,000.
In the list of cricket grounds in India, it ranks at second position.
In 2005, November first international ODI was played between India and South Africa. Sachin Tendulkar scored his 45th ODI century and achieved 60th ODI man of the match award on this ground. It considered as a lucky ground for Indian player in cricket. Cheteshwar Pujara scored his first test hundred and also Ashwin took 12 wickets in test match.
Wankhede Stadium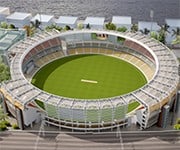 Wankhede Stadium is located in Mumbai. It is one of the most famous cricket grounds in India. Wankhede Stadium pitch has been prepared with red soil.
Current seating capacity of Wankhede stadium is of 45,000.
It was build due to the dispute between cricket clubs of India.
It was established with the help of Shri SK Wankhede and MCA Secretary.
In Mumbai, it's located nearby famous Churchgate Station.
In IPL, it is home ground of Mumbai Indians team.
Spin bowlers achieved the big amount of success on this ground. This pitch has bounce track had been proved in a test match between India and Australia. Batsmen struggle on this pitch and also one of the dangerous tracks. India won the second world cup in 2011 at Wankhede stadium, Mumbai. Ravi Shastri scored six balls six sixes in Ranji trophy. In the list of top cricket grounds in India, it ranks on Third position.
Vidarbha Cricket Association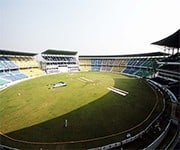 Vidarbha cricket association is located in the city of Nagpur, Maharashtra. It is in Jamtha area in Nagpur as the main Stadium in Maharashtra. India is blessed to have such beautiful cricket stadium in India.
Currently seating capacity of the ground is 45,000.
It is one of the best stadiums in India in term of practice and training facilities.
In 2009, at VCA Stadium Mahendra Singh Dhoni scored 124 runs in ODI against Australia.
In 2011, World Cup four matches were played on this ground.
In 2011, Hashim Amla scored 253 runs against India at VCA Stadium, Nagpur.
A popular cricket grounds in India compared to other grounds. In the list of top cricket grounds in India, it ranks at a fourth position.
Sawai Mansingh Stadium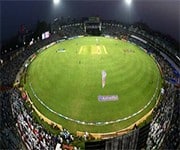 Sawai Mansingh Stadium is located in Rajasthan, Jaipur. It is famously known as a SMS Stadium. Interesting cricket venue established during the reign of Sawai Raja Man Singh II.
Current seating capacity of the ground is of 30,000.
In 1983, first ODI match was played and India got the victory in it.
In 1987, one test match was played between India and Pakistan.
This ground is also famous because of Mahendra Singh Dhoni outstanding batting performance. He scored 183 not out against Srilanka in 2005. In list of cricket grounds in India, it ranks at fifth position.