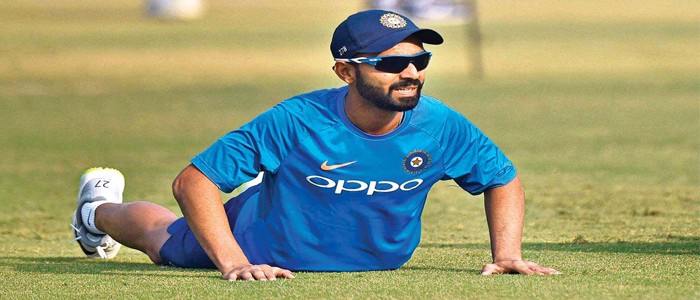 Ajinkya Rahane is a right handed batsman who plays for Indian team. He was born on 6 June 1988, his full name "Ajinkya Madhukar Rahane". His nickname is Ajju, teammate and other close member know him by his Nickname. He is very calm player and during the field his nature is very cool. Ajinkya Rahane is known for his defensive technique, as he also compared with "The wall of India" Rahul Dravid. Ajinkya Rahane Biography got big success, when he got compared with Rahul Dravid, which is a successful player all time in the Indian Team.
Ajinkya Rahane biography was staring from his poor family, as they cannot afford more money for his cricket career. He was travel in train for long hours to go for cricket practice as he lives in Dombivali. He cannot afford higher expense for the high class of coaching, even he got an education from the normal coaching center. He struggles although in his life, now he is a well-known player.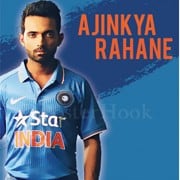 In cricket match, he was in U-19 with Indian Team in 2007 with the teammate like Virat Kohli, Ravindra Jadeja, Ishant Sharma. He has got successes in U-19 than India team gives him a chance to play in first class cricket. Ajinkya Rahane biography becomes popular when, he was made first debut at the age of 19 years in the first class cricket. He has played the open innings on debut with Sahil Kukreja and he scored 143 runs on 201 balls, due to this fantastic performance he was selected for the Irani Trophy. Ajinkya Rahane performance was growing day by day, he impressed all of them by his batting skills. In the year 2007-08, he made his Ranji Trophy Debut playing for Mumbai. Ajinkya Rahane biography and his way to score runs impressed other batsman.
He was attacking player, but on field his nature was very calm & cool. No aggression while playing cricket because he got to know the main reason to get out during bating is unnecessary aggression on the field. He performed well in every trophy in which he got a chance to show his cricketing skills. Ajinkya Rahane has played in Test cricket because as the replacement of Shikhar Dhawan. People said that, he got the chance because of Shikhar Dhawan got an injured during a match.
During a cricket career, he faced many of the problems in his life and that time his batting style was also not attacking. So, people assumed that he cannot handle game pressure & his performance was not so good. Then after, Ajinkya Rahane hit the first Test Century on 15 February 2014 against New Zealand. Then people started to know him as the second Rahul Dravid for India because of his performs well in Test cricket.
In ODI, he made debut against England & in first debut match he scored 40 runs. In second ODI match he scored 47 runs in 54 balls. His cricket career has started growing in slow mode, but in a next ODI match against Pakistan & England was not impressive. In August 2011, he made debut in T-20 International cricket & he scored a half century against England. He had been famous in India because of his brilliant performance in IPL matches.
IPL matches, Ajinkya Rahne plays the IPL matches in Mumbai Indians, but he didn't get opportunities to prove himself as a good cricketer. In the next season he played for Rajasthan Royals, which gives him a great opportunity to prove himself. He opened the innings with Rahul Dravid, which is a role model for him. That moment for Ajinkya Rahane was like dream came true. That one season changed his whole cricket career, he performed brilliantly for Rajasthan Royals.
Ajinkya Rahane Family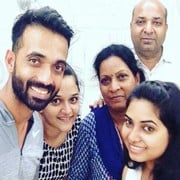 Ajinkya Rahane family was from middle class family, which is live in Maharashtra. He was born on 6 June 1988 in Sangamner, Ashwi Khurd. He belongs to Marathi family a "MARATHI BOY". He completed his school studies from the SV Joshi high School in Dombivali. His father "Madhukar Baburao Rahane" has low income that why his dad cannot spend more money on Ajinkya Rahane for cricket career. Ajinkya Rahane started playing cricket in the age of seven year.
Due to middle class family, Ajinkya Rahane took admission in the normal coaching center. Because high coaching center has a high range of fees, which was impossible for Madhukar Rahane to pay; he has to take family expenses. Ajinkya Rahane coaching sir name is Pravin Amre, who played for India cricket team.
Coaching center was far from his house, he had to travel 2km to reach the coaching center. His mother "Sujata Rahane", she did lots of struggle because mother can do anything for her son to make a bright future. He has one brother "Shashank Rahane" and one sister "Apurva Rahane".
Ajinkya Rahane Wife
Ajinkya Rahane is a simple guy with decent behavior, but in childhood days he falls in love with one girl name "Rashika Dhopavkar". They both like each other and they know it very well. Their love story is like old films mean cute, simple and beautiful.
They grow up and their love for each other also grown up. They love each other and later they started living in same place. They started dating each other, as Ajinkya was not the naughty kind of man so his dating days was not so interesting & exciting. In dating days, they both lives like normal friends. Both of families know that they are in love with each other. They said if you want to live your life together then you can get marry with each other.
On 26th September 2014 in Mumbai, Ajinkya Rahane got married with Rashika Dhopavkar. They invited to all cricketers, BCCI members & close friends to attend the marriage. They arranged a reception in MCA; whole Indian team celebrated his marriage. They both are lovely couple understand each other. God bless his love story should not be ended.
Ajinkya Rahane Batting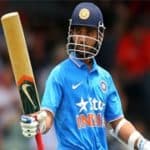 Ajinkya Rahane batting style is different from others because he usually bats like a star player. He knows how to handle pressure. Ajinkya Rahane batting skills started to compare with the great batsmen like Sachin Tendulkar, Rahul Dravid & VVS Laxman. He had known as future star player in Indian cricket team. He can play in any formats and He is a player who can play different types of shots.
He made his T-20 debut against England on 31th August 2011. In T-20 career, he played 20 matches and scored 375 runs with an average rate of 20.83, Strike rate 113.29.
He made one half century in T-20 format, on 3rd September 2011.
He made ODI debut against England, where he played 84 matches and scored 2822 runs with average rate 35.27, Strike rate 78.72.
He scored three centuries and 23 half centuries in the ODI format on March 22, 2013.
He played his first test match against Australia and he played 43 matches (73 innings), scored 2826 run with an average rate of 44.16, Strike rate 52.63.
He scored nine centuries and twelve half centuries in test cricket format.
In IPL, he played 111 matches and scored 3057 runs with an average rate of 33.59. He scored one centuries and 25 half century in IPL career.