Mahendra Singh Dhoni was a famous Indian player as well as a great captain for Indian team. He was born on 7 July 1981 in Ranchi, Bihar. Dhoni started handling captaincy in all three formats in limited overs forms 2007 to 2016 and in test cricket from 2008 to 2014. Mahendra Singh Dhoni biography is also popular by his nickname Ms Dhoni, MSD & Captain cool. Ms Dhoni is right handed batsmen and also wicket keeper and a great finisher in limited over the wicket. He is one of the best wicket keepers in the world he was also popularly known as "Rocket hand" due to his fast hand beyond stumps.
Mahendra Singh Dhoni made his ODI (One Day International) debut against Bangladesh in year the 2004 and played a test match against Sri Lanka a year later. MS dhoni holds many records as a captain and batsmen that why Mahendra Singh Dohni name become popular in a very short period of time, later on in the year of 2007 he become ODI (One Day International) captain after this India hold number 1 rank in ODI(One Day International) format. India won many trophies under Ms Dhoni captaincy.For Eg. ICC CHAMPIONS TROPHY in the year 2013.
In the year of 2011, In final cricket match he played an important role as a player for team by scoring 91 runs not out off 79 balls and also he was a man of the match in the final match of world cup. MS Dhoni becomes first captain to win all ICC limited over's trophies (Twenty 20, Champions trophy, World cup) Later he also held as test match captaincy due to his captaincy magic India become 1st rank in for the first time under Mahendra Singh Dhoni captaincy India whitewash Australia in the test series after 40 years.
MS Dhoni Childhood Journey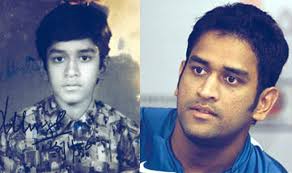 MS Dhoni was born in Ranchi, and he was from middle class family, his father Pan Singh worked in junior management positions in MECON. He has one sister and one brother Jayanti gupta and Narendar Singh Dhoni. In her Childhood he was big fan of Adam Gilchrist and Sachin Tendulkar.
Ms Dhoni was an active student in School for sports. He studied at the DAV Jawahar Vidya Mandir, Ranchi, Jharkhand. Earlier Dhoni was not interested in cricket, he plays Badminton and Football and he also selected for District level in these sports coaches sent Dhoni to play local cricket due to his wicket keeping skills while he did not play cricket at those times. Later he focused on cricket, he struggle huge beyond his whole cricketing life.
Mahendra Singh Dhoni Records
T20 Record:
Matches played:76, Innings:66, Average: 36.63, Runs:1209, Highest score 56, Half centuries:1, Centuries:0, Catches:42, Stumping:23.
ODI Record:
Matches Played: 286, Innings: 249, Average: 50.96, Runs: 9275, Highest score: 183, Half Centuries: 61, Centuries: 10, Catches: 26, Stumping: 94
Test Record:
Matches played: 90, Innings: 144, Average: 38.09, Highest score: 224, Runs: 4876, Half centuries: 33, Centuries: 6, Catches: 256, Stumping: 38
Mahendra Singh Dhoni Awards & Achievements
He received Rajiv Gandhi Khel Ratna award in 2007.
Man of the match awards in his career.
In a test he received 2 man of the match award.
In ODI he received 20 man of the match award.
In T20 he received 6 man of the match award.
MS dhoni honor by India's fourth highest civilian honor in 2009 and also won the Padma Shri.
Ms Dhoni Hobbies & Interest
Enjoy playing computer games and badminton.
Hearing music , Ghazals.
Loves to ride Bikes.