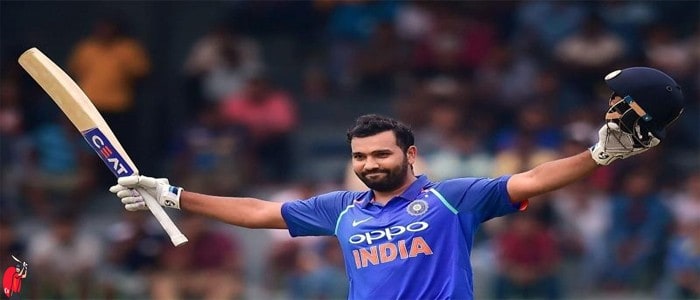 Rohit Sharma was born on 30 April 1987 in Maharashtra but he was from Telugu family, his full name "Rohit Gurunath Sharma". He started his cricketing career in early age, usually plays for Mumbai team in Ranji Trophy. Playing for Mumbai team benefit him to grow his cricketing skills and set position in the Indian cricket team squad. Rohit Sharma biography inspires other young cricketers, who dream to play for the Indian team at the international level.
Struggle is a word, which Rohit Sharma did in his cricket career that story become inspires for others. But he knew to fight with 'Problems' or 'Struggle', his hard work and dedication for cricket made changes in his life in 2006. He was selected for India U-19 World Cup and he played in 2006 for U-19 World Cup for Team India. In U-19 World Cup he exposed his brilliant talent. Due to his performance selectors become impressed in U-19 World Cup. U-19 World Cup was turning point for Rohit Sharma because after his tournament he got a chance to play for the Indian team at International level and he scored highest runs in U-19 World Cup.
From the Indian cricket team, Rohit Sharma was the highest contributor due to his fantastic performance. He scored 142 runs in 123 balls. Another great knock came's against Gujarat, in that match he scored a double century in just 267 balls in Ranji Trophy. Due to his brilliant performance, all cricketers known's him as a "Hitman" and also popularly known as 'Ro' 'Hit' Sharma. He likes to play long innings and also love to hit sixes.
Power hitting and class of playing a cricket match made Rohit Sharma profile unique from other players. He also played other national level trophies like challengers trophy, NKP salve challenger trophy. Due to the lot of struggle and hard work made all dream true and finally, he was selected for Ranji Trophy in 2006/07. Rohit Sharma was part of Mumbai Team in during Ranji Trophy when they won final match against Bengal that time Rohit Sharma was at the eye of selectors because he was playing great, knock consecutive for his team at the National level.
India won the T-20 World Cup, Rohit was part of Indian Team he also scored runs against South Africa a half-century. First half century in T-20 at the international level, another first half-century in ODI was against Pakistan, the Indian selectors have given chance to play for the Indian team. That time Rohit Sharma has become same like Sachin Tendulkar for Indian team and he also has one dream to play with Sachin Sir, finally his dream came true and he played many matches with Sachin Tendulkar "Hard Work is a Key to Success".
At the beginning stage of his career, he was known as "Finisher" because he finished many cricket matches/ innings for his team. His talent and experience make him 'Star Cricketer'. In the Rohit Sharma biography, he suffered many Up and Down's in cricket career. Beginning of his cricket career use to not that much popular. People only knew him as Right-Handed Batsmen and part-time off-spinner. He focused on his game and worked hard, success was not so far for him. Now a day, Rohit Sharma is a well known popular cricketer player. People knew him by Hitman, his batting style makes him great. Rohit Sharma biography & journey of life become inspires for Young cricketers.
Rohit Sharma Record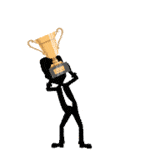 Rohit Sharma broke all records and made unachievable records. This man is gifted to our Indian cricket association, "WHAT A PLAYER" hat off to his talent. Indian fans like him because of his batting style, he plays cricket in his own style. That's a class of this player. He is in Indian squad for all three formats. Rohit Sharma record made him one of the finest players for limited over's. He only believes in boundaries not in single and double. He broke records by hitting more boundaries, 186 runs by boundary. That's playing style of Rohit, he usually plays in his own Style.
Some of Unbreakable Rohit Sharma record
Rohit Sharma a second Indian batsmen to score century in T-20 formats , earlier Suresh Raina was only Indian player to hit a century in T-20 formats. In that match he scored 106 runs in 66 balls.
Rohit Sharma scored a century in all three formats, a second Indian player to do so.
He made his first double hundred on 13 November 2014 against Srilanka at Kolkata Eden Garden. He scored 264 runs, a highest individual score in an ODI.
In one innings he set record by hitting 33 fours in ODI and 16 Sixes in another match.
In Perth Rohit Sharma scored 171* against Australia, highest individual score in Australia by visiting team.
Rohit Sharma broke the record of Virender Sehwag, as a captain he scored a double century for his team.
Rohit Sharma is only batsmen from India who scored runs in ODI series against Australia and hit 50 Sixes.
In "History of Cricket" he is only the player to hit three double centuries. In Mohali, he scored 208* against Srilanka on 13 December 2017.
Rohit Sharma was part of a partnership with Shikhar Dhawan, in T-20 format in which they made 158 runs.
He scored 80 runs against New Zealand which was the highest individual score against New Zealand.
Rohit Sharma made 1000 runs in victory moments.
Rohit Sharma Batting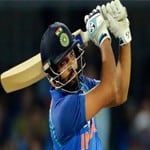 Rohit Sharma batting is one of top order batsmen for Indian team. He is Right Hand Batsmen and Right arm off break bowler playing for India. Rohit Sharma is known as 'Power Hitter' and best opener for India after retirement of 'Virendar Sehwag'. Rohit open innings for India, he is known as destructive batsmen.
Technique to play particular shot timing, power and a key thing he used to apply his own batting style. He Struggle although his cricketing career, but later his hard work gives him success. He made his First Class Debut on 11 July 2006 against New Zealand. Rohit Sharma was selected for India and he played the first match against New Zealand. He played 83 First Class matches in that match he scored 6378 runs, an average of 55.94 and in the first Class career he hit 20 centuries and 29 half centuries. Rohit Sharma batting scene suits to T-20 formats because of his hitting technique.
Basically, he plays all three formats for his team. He played his first ODI match was against Ireland in June 23, 2007. Due to his first international match he was nervous that can be seen in his performance. He forced on his batting style, now a day in his one of the Top batsmen in ODI for India. The only player to hit three doubles tons in an ODI. Rohit Sharma batting skills and talent can be seen in test cricket. He played his first test cricket against West Indies on 6 November, 2013. He played 23 matches (39 Innings) he scored 1401 runs an average of 42.45. He made 3 centuries and 9 half-centuries in Test career. Highest score in Test 177 runs. Rohit Sharma batting style is different from other cricketers.
Rohit Sharma Family Background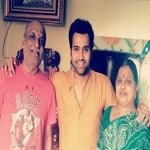 Rohit Sharma is from a low class family, his father "Gurunath Sharma" income was not enough to fulfill his needs. His mother Purnima Sharma was a housewife and Rohit has one younger brother 'Vishal Sharma'. He was not able to spend money on cricket due to his father (family economics) bad condition.
In Rohit Sharma Family, his uncle helped him for financial to play cricket, his uncle told him "You Focus on Your Game" and not to worry about money. 'Gurunath Sharma' income was low he work at the transport firm as a caretaker. His parents cannot afford the money for 'Rohit' cricket career . They send Rohit to 'Uncle House' because cricket ground was near from uncle home and also he help him by giving money to buy cricket equipment. Rohit Sharma is going to meet his family only on weekends because cricket ground was so far from his house the he told his parents about shifting plan to his uncle's house (Borivali).
Rohit Sharma Wife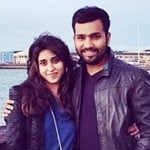 Rohit Sharma started dating Ritika Sajdeh they are Childhood friend, they have known each other very well. In 2015, April Rohit Sharma got engaged with Ritika Sajdah. One of the cutest couple in cricketing field, made FOR EACH OTHER. Rohit Sharma career was growing day by day after the engagement, that the reason people were saying that Ritika Sajdeh is lucky for Rohit Sharma. On 13 December 2015 they married each other. Best of luck and great wishes for Rohit and Sajdeh, live a beautiful life ahead.