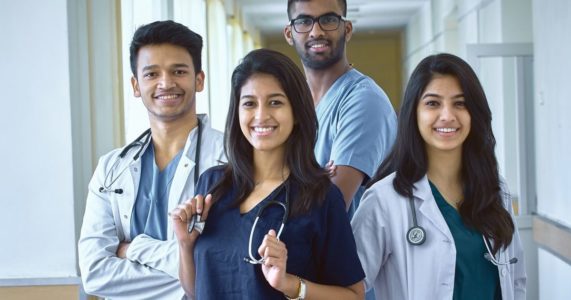 The profession of medicine for millennia belonged to the most prestigious and respected – and now this situation has not changed. Competitions for budget places in the best medical universities often amount to 50 people per seat; the passing point for the USE is required for more than 80 points and a score for admission – from 370 out of 400 possible. In addition, the cost of tuition at paid places in leading universities reaches 300 thousand rubles for medical professions – and, nevertheless, the flow of those wishing to get an education and a diploma in them does not diminish year after year.
Specialties
The total number of medical specialties is approaching 150; however the most popular are still:-
The medical case,
Dentistry,
Pharmacy.
If we consider more narrowly medical specialties – then in addition to the long-known professions of a surgeon, therapist, dentist, ENT, gynecologist, and some others, popular in medical establishments, the popularity of "new wave" is also gaining popularity. The latter include cosmeticians, plastic surgeons, phlebologists, acupuncturists, manual therapists, and others.
Where to get the high-quality medical education in the Russian Federation
Solving for themselves this question, first of all, it is necessary to really assess their opportunities – both educational and financial. Since, as it was said above, it is possible to get through to the most prestigious medical universities in Russia with the help of knowledge alone, but they should be not only higher but much higher than the average level.
If we talk about the "elite" of Russian medical education – then it can include such high schools as:-
Moscow Medical and Dental State University named after Evdokimov (MGMSU), considered the number 1 in the Russian Federation.
Not much inferior to him: the Moscow Medical Academy (MMA) named after Sechenov, the St. Petersburg Medical State University named after Pavlov (St. Petersburg State Medical University) and the St. Petersburg Chemical and Pharmaceutical State Academy (SPMPA).
Of the regional educational institutions of this profile, the most prestigious in terms of the totality of indicators (teaching staff, level of education, and demand for specialists after graduation, etc.) are such medical universities and academies as:
Vladivostok State University (VSMU);
Voronezh Academy Burdenko (VGMA);
Novosibirsk state (NMMU);
The Arkhangelsk Northern State University (SSMU).
In general, in Russia today there are 58 medical schools, each of which provides a wide range of medical specialties, while, in the majority, practicing, and secondary vocational education within its walls. Their list you can find in the sections of medical universities in Moscow and St. Petersburg.
Content of training programs
According to the GEF 3rd generation, in the subject area of professional medical and pharmaceutical education, public health, and clinical medicine, the content of training programs includes:
Humanitarian-socio-economic cycle – 9 disciplines (Latin, bioethics, jurisprudence, etc.);
Natural-scientific and mathematical cycle – 14 disciplines (plus a variable part), including biochemistry, anatomy, immunology, etc.;
Professional cycle – 27 disciplines (with a variable part), including epidemiology, medical psychology, neurology, etc.;
As well as training and production practices.
Depending on the chosen specialty and faculty, the number and list of disciplines, of course, can vary.
Forms of training
From a financial point of view, the forms of study in medical schools are divided into the budget (free) and extra budgetary (paid). From a temporary – to full-time and correspondence. In addition, in some universities, since the late 90's began to practice such forms of learning as distance learning and learning in English.